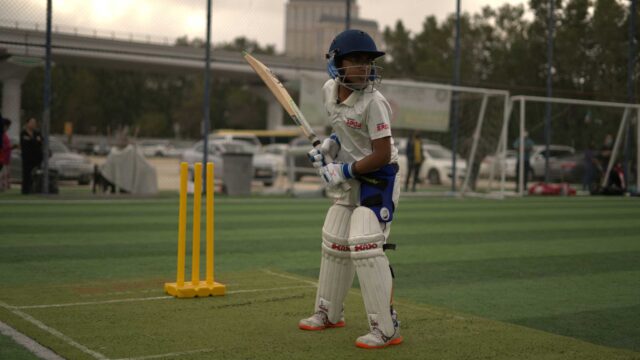 Cricket, a beloved and widely played sport worldwide, not only holds a rich tradition but is also evolving with technological advancements.
In the heart of the UAE, a center of cricketing excellence has been embracing these technological advancements and innovations, setting new standards in cricket coaching. This article delves into several emerging trends and innovations seen in recent years, exploring their potential to significantly influence the future of the sport and how they are being integrated into the fabric of cricket training and strategy.
The rise of data analytics and technology
The use of data analytics and technology in cricket coaching is one of the most significant trends currently. Coaches are relying on tools like Hawk-Eye to track the ball's trajectory and ProBatter to simulate live bowling for players to receive a more precise and immersive training experience.
Additionally, data analytics is being utilized to identify players' strengths and weaknesses and develop customized training plans based on the data. With the advent of wearable technology such as fitness trackers, players can receive real-time feedback on their performance, resulting in more specific and targeted training.
Mental Health and Well-being
Cricket is a mentally demanding sport that can take a toll on a player's well-being due to the pressure to perform. Therefore, cricket coaching has increasingly focused on mental health and well-being. This includes providing players with necessary resources and tools such as access to psychologists and meditation apps to help them manage their mental health better.
Additionally, coaches aim to create a team culture that emphasizes the importance of mental health and encourages players to prioritize self-care.
Emphasis on Physical Fitness
With the changing dynamics of cricket, there is a noticeable shift towards elevating physical fitness as a key focus in the sport, requiring an innovative and comprehensive approach to training methodologies.

In contemporary cricket, beyond the increased emphasis on mental well-being, there is a notable spotlight on elevating physical fitness levels among players. The evolving demands of the game anticipate athletes to possess superior fitness, prompting the adoption of more comprehensive training methodologies. This includes integrating practices such as yoga, Pilates and other functional fitness workouts to cultivate core strength, flexibility, and balance.
Multi-disciplinary Approach to Player development
A significant trend in cricket coaching is a comprehensive approach to player development, which is exemplified in the experiences of students at our cricket training center. There, every day involves an integrated routine of specialized coaching, fitness training, mental conditioning, and nutritional guidance. By teaming up with experts in strength and conditioning, sports psychology, nutrition, and physiotherapy, coaches at the center ensure that players receive a well-rounded training regime. This holistic approach not only enhances players' on-field abilities but also significantly improves their overall physical and mental health.
Diversity and Inclusion in Cricket
Finally, the last trend that we can see emerging in cricket is a push towards greater diversity and inclusion in the sport. This means creating accessible pathways into the sport for all communities, regardless of race, gender, or socioeconomic status. Things such as mentorship programs and scholarships are being put in place to improve access and representation, ensuring that cricket is truly a sport for all.
The coaching techniques in cricket are continuously advancing, with fresh ideas and developments arising frequently. Though the basics of the sport persist, advancements in technology, a heightened focus on the health and fitness of players, and a commitment to diversity are all influencing the future of cricket.
In the ever-evolving realm of cricket coaching, where fresh ideas and developments surface frequently, there is a dynamic transformation underway. While the fundamentals of the sport remain steadfast, the future of cricket is being influenced by innovations in technology, an enhanced focus on the health and fitness of players, and a steadfast commitment to fostering diversity.