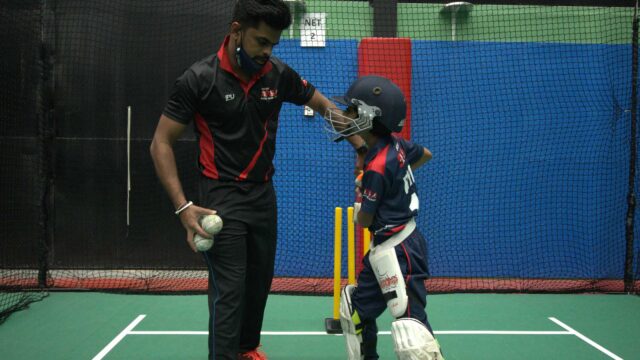 Cricket is not only a sport but also a test of mental toughness, a key focus at our esteemed cricket center in the UAE. Players are trained to maintain consistent focus, confidence, adaptability, and resilience. Success in cricket at our center is understood to be determined not just by physical prowess but also by a player's ability to handle pressure, confront challenges, and remain composed under intense scrutiny, embodying the holistic approach we take to cricket training.
Mental toughness, therefore, is an indispensable tool for cricket players striving for excellence, especially in the vibrant, culturally diverse city of Dubai. This city, with its top-tier cricket facilities and expert coaching, offers an ideal setting for players to cultivate both their physical and mental skills in cricket. In this blog post, we shall explore valuable insights from mental conditioning experts on the role of mental toughness, as nurtured in such dynamic environments.
Develop a Winning Mindset: According to Ian Pont, a renowned coach and sports psychologist, the first step to building mental toughness in cricket is by developing a winning mindset. This requires the appropriate mindset and strategy for the game, a crystal-clear focus on your objectives, and a high level of dedication and perseverance to succeed.
By setting ambitious but realistic targets, players can motivate themselves to work hard, train consistently, and improve their skills. A winning mindset also means having the confidence to take up challenges, learn from defeats, and bounce back stronger.
Stay Calm Under Pressure: Cricket is a sport characterized by its unpredictable nature, where momentum can swing quickly, and the pressure can become immense. Therefore, cricket players must possess the mental flexibility to remain composed during high-stress situations, regulate their emotions, and make logical choices.
This necessitates a thorough comprehension of one's own abilities, limitations, and the capability to adjust to evolving circumstances. According to sports psychologist Jeremy Snape, the most accomplished cricket players are those who do not become excessively ecstatic after achieving success or excessively despondent after experiencing failure.
Build Resilience and Coping Skills: Cricket is a challenging game that can stretch players to their physical, mental, and emotional boundaries. In order to manage these demands, players must possess the strength to rebound from disappointments, heal from injuries, and keep their concentration and determination intact.
This necessitates the creation of efficient coping strategies, such as visualization, relaxation, positive self-talk, and utilizing stress management techniques. Dr. Mark Bawden, a sports psychiatrist, believes that building resilience is a continual journey that entails acquiring knowledge from difficulties, developing from hardship, and cultivating a sense of significance and purpose.
Stay Motivated and Committed: Cricket is a strenuous and prolonged journey that comprises various barriers and hurdles. Hence, players must possess the dedication and perseverance to continue striving for excellence, even during challenging times. This necessitates taking responsibility for one's performance, being accountable to oneself and the team, and being prepared to put in the necessary effort and forfeit to accomplish success.
Paddy Upton, an expert in mental conditioning, highlights the significance of inherent motivation, stating that players who are motivated by their passion and purpose are more likely to attain their objectives than those driven by external incentives.
Cultivate a Growth Mindset: In order to excel in cricket, it is essential for players to possess a growth mindset that involves being receptive to learning, tackling challenges with enthusiasm, and actively seeking feedback. A growth mindset also entails disengaging from the end results and instead concentrating on the journey, understanding that each setback presents a chance to learn and develop.
Consequently, mental resilience in cricket is not solely about being tough mentally, but also about being flexible, adaptable, and receptive to new ideas.
Mental toughness is an essential factor in cricket, and players who cultivate their mental resilience and agility are more likely to achieve success. From developing a winning mindset to building resilience and coping skills, staying calm under pressure, staying motivated and committed, and cultivating a growth mindset, cricket players need to hone various mental skills to thrive on the field.
By embracing mental conditioning techniques and working with experts in the evolving landscape of cricket, players can build the mental toughness needed to become champions. Cutting-edge coaching methods and innovative strategies are shaping the way players prepare for the challenges of the game, ensuring that they are equipped not just physically, but mentally as well, to excel in the competitive world of cricket.